is a Certified Enterprise Architect, Scrum Master, and Personal Trainer with 15 years of experience in the Intelligence Community (IC) as well as technical support in directing the planning and execution of multi-method research and analysis initiatives used to produce actionable intelligence products. He has lead teams responsible for the development and management of the GOV network architectures and implementing model-based systems engineering methodology to enhance critical national infrastructure.
JC is an Indiana University graduate and 8 years Army Veteran where he served in the 82nd Airborne Division. He completed several combat tours in both Iraq and Afghanistan. After completing his military service, he continued his service to the DOD and Intelligence Community in several capacities.
JC volunteers at his local church as a worship leader and missionary. He has a passion for serving the community: providing character coaching, mentorship, and motivational speaking as well as facilitating group training and military style boot camps.
---
Barbara Stephenson, M.S., LMFT, Co-Owner
is a licensed marriage and family therapist whose passion is to help empower and motivate others to seek personal growth and positive life changes. She provides a supportive and safe environment where clients can feel comfortable exploring their thoughts and feelings. She collaborates with each client to help identify and understand their challenges and tailors her therapeutic approach to meet the client's specific needs and treatment goals. She believes treatment should emphasize the whole individual and therefore focuses on mental, emotional, physical, and social health to enhance their overall well-being.
Barbara received a Bachelor of Arts degree in Psychology from Marshall University in West Virginia. She graduated with her master's degree in Counselor Education/Marriage and Family Therapy from the Council for Accreditation of Counseling and Related Educational Programs (CACREP) accredited Stetson University in Florida. She completed her residency for licensure in Northern Virginia working in both outpatient mental health and intensive in-home settings. Additionally, she has worked as a high school counselor. She has experience working with individuals dealing with adjustment issues, anxiety, self-esteem issues, depression, couples and family relational issues, and behavioral problems in adolescents. She works with children, adolescents, adults, couples, and families to help provide healthy coping skills and effective communication skills.
Barbara focuses on client strengths and encourages clients to engage in strategies outside of therapy sessions in order to progress towards their goals. She believes a positive mind set is essential in creating a healthier balance and striving towards endless possibilities.

---
Stephanie Hernandez, LMT
is a licensed massage therapist. She has a passion to heal and help with everyone's unique physical stressors that cause tension, soreness, chronic pain, and discomfort. The types of massages she performs includes Swedish, deep tissue, and sports massage.
Stephanie attended the Northern Virginia School of Therapeutic Massage (NVSTM) for Licensure. She received her certifications through the National Certification Board for Therapeutic Massage & Bodywork (NCBTMB) programs.
Stephanie is excited to keep extending her knowledge and growing in everything that massage therapy has to offer. Outside of work she enjoys the outdoors and spending time with friends/family.
---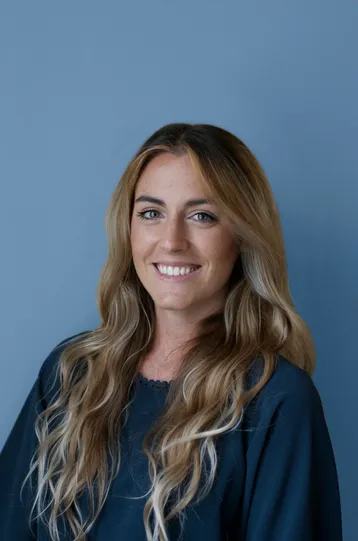 Kiersten Farrell, MsEd, LPC, LSATP
is a Licensed Professional Counselor and Licensed Substance Abuse Treatment Practitioner approved by the Virginia Board of Counseling. Kiersten graduated with her Masters' degree in Mental Health Counseling from Old Dominion University. She has previously worked in outpatient, hospital and college settings working with teens, young adults, and adults. Additionally, she has experience working with couples and family dynamics. Kiersten has worked with individuals experiencing substance use and abuse struggles, criminal thinking and behaviors, trauma, physical chronic diagnoses, sports related injuries and mental blocks, anxiety, stress, relationship issues, depression, ADHD, eating disorders and major life transitions.
Kiersten approaches clients from a holistic viewpoint, paying attention to their mental, spiritual and physical well being. She uses person-centered techniques, mixing in aspects of cognitive behavioral therapy, narrative therapy and motivational interviewing. She believes that therapy is challenging, yet opens many doors to self-growth, self- discovery, and self-acceptance.
Kiersten aims to create an environment where her clients can fully explore themselves in their past, current and future circumstances. Through collaboration with her clients, she helps them steer on their journeys through life.

---
Sara Ayasso, MS.Ed, LPC, NCC
is a Licensed Professional Counselor in Virginia and board certified by the National Board of Certified Counselors. Sara graduated with a Master's degree in Clinical Mental Health Counseling from Duquesne University in Pittsburgh. She has a background of working in a variety of settings: communities, schools, residential and outpatient sites and has experience working with diverse clients including adults, children, families, couples, refugees, and offenders. Sara has helped individuals experiencing anxiety, trauma, low self-esteem, adjustment issues, stress, ADHD, depression, relationship issues, life transitions, and substance abuse struggles. She uses an eclectic approach that includes person-centered techniques, Cognitive Behavioral Therapy, Solution-Focused Therapy, Dialectical Behavioral Therapy, and Mindfulness in order to better help her client's unique journey. She also implements trauma-focused techniques and motivational interviewing.
Sara's passion is to help her clients cultivate their mental health by giving them a holistic plan enabling them to confront and nourish their life mentally, physically, and spiritually. Sara constantly strives to improve the overall emotional well-being of individuals experiencing difficulty managing mental distress from crises to daily living skills. She first and foremost endeavors to foster a trusted bond between herself and others. Her positive, empathetic nature and attentive, sensitive demeanor creates a safe environment in which individuals can feel free to talk openly without judgment. Sara is passionate about bringing patience, empathy, unconditional positive regard, and comprehensive treatment strategies to each individual.
---
Chris Johnson, MA, LPC
is a Licensed Professional Counselor, approved by the VA Board of Counseling. Chris received a Master's in Professional Counseling at Liberty University. He possesses more than 5 years of experience within the counseling profession, having worked as a Community-Based counselor working in homes, as an Applied Behavior Analysis (ABA) therapist for children diagnosed with Autism Spectrum Disorder and licensure residency. He has experience working with a wide population consisting of all ages, from young children to older adults.

Chris has experience working comprehensively with several modalities including but not limited to Cognitive Behavioral Therapy, Dialectical Behavioral Therapy, Mindfulness and Trauma within his scope of practice. Chris has worked in various arenas, including school and residential settings, and has assisted individuals suffering with trauma, depression, anxiety, grief, ADHD, ODD, etc.
Chris believes healing and change can be achieved through vulnerability and disciplined introspection.
---
Eliza Gallagher, MS.Ed, Resident in Counseling
is a Resident in Counseling approved by the Virginia Board of Counseling and is working towards her licensure. Eliza graduated with her Master's in Counselor Education from Virginia Commonwealth University in Richmond, Virginia. She has previously worked in elementary schools and has experience working with young children, teens, young adults, and families. Eliza has experience working with individuals dealing with depression, anxiety, separation, grief & loss, trauma, self-esteem, major life transitions, suicidal thoughts, family systems, conflict resolution, transitions and emotion management. Eliza is passionate about stepping alongside clients as they navigate through challenges and goals while emphasizing specific, individualized treatment plans to promote the discovery of who each client is and is meant to be. Eliza's experience includes working with at risk youth in gangs, homeless services, law enforcement, social workers, human trafficking, social media, and society/school/family pressures that lead to decreased health and increased challenges for individuals in an already challenging world. She believes in building a support system unique for each person and believes in counseling because it adds one more person to 'your team' of people.
Eliza values creating a safe, inclusive, open space for clients to enter into as they engage mentally, emotionally, physically and/or spiritually. Her therapeutic style can be described as present, empathic, positive, and compassionate. By creating specific individualized tasks for clients to process or do outside of the counseling space, she hopes to promote increased growth and freedom.
When she is not at work, Eliza enjoys spending time reading, cooking, and being active, especially outdoors with her spouse and dog, Oshie.
Eliza currently works under the supervision of Marla Peyser, LPC.
---
Karen M. David, M.Ed, Resident in Counseling
is approved by the Virginia Board of Counseling as a Resident in Counseling to work with children and adults. She obtained her Master's in Counseling and Development from George Mason University. Karen has experience working with children, adolescents, teens, and adults who have experienced trauma, sexual abuse, domestic violence, anxiety, depression, as well as relationship and life adjustments concerns. Karen is a Certified Trauma Professional (CTP) and has also completed her training as a Meditation Specialist I-BC in Focused Awareness Meditation from the National Meditation Specialist Certification Board.
Karen is passionate about meeting clients wherever they are on their life journey and helping them process the challenges they are facing. Karen believes that everyone struggles from time to time with mental health concerns and that within each person are the answers to moving forward. This begins with self-awareness of one's strengths, supports, as well as goals.

Karen offers an integrative/eclectic evidenced base therapy practice. She utilizes Person Centered Therapy, IFS, CBT, DBT, Humanistic Therapy, Creative Impact Therapy, and Mindfulness based stress reduction, while working with you toward your goals.
Please join Karen, as she invites you to a safe space, to be heard, to explore the possibilities of being self, to discover the answers within, and to reach your goals of well-being.

Karen currently works under the supervision of Sarah Freeman, LPC.
---
Kennedy Kingston, MS, Resident in Counseling
is a Resident in Counseling approved by the Virginia Board of Counseling, and working towards licensure. Kennedy completed her Master's degree in Clinical Mental Health Counseling from the University of Memphis. She has worked in residential and outpatient settings. Kennedy's previous experience includes working with adults, as well as young children, adolescents, and their families. She also has experience working with individuals who experienced trauma, abuse, and struggle with behavioral issues, as well as individuals struggling with substance abuse and criminal behavior.
As a counselor, Kennedy encourages self-exploration and growth in her clients by providing non-judgmental support and allowing them to feel heard. She approaches counseling from a humanistic standpoint and incorporate cognitive behavioral and dialectical behavior techniques with clients.
Kennedy aims to provide a safe space for clients, where they feel comfortable to be their authentic selves. She hopes to help her clients feel comfortable exploring vulnerable topics and empowered to work towards healing.
Kennedy works under the supervision of Mary Moussa, LPC, NCC, CSAC.

---
Eugenia Stokes, MA, Resident in Counseling
is a Resident in Counseling approved by the Virginia Board of Counseling working towards her licensure. Eugenia graduated with her Masters' degree in Community Counseling from Regent University. She has previously worked with children, adolescents, teens, young adults, and adults. Additionally, she has a passion for working with couples and families. She has worked with individuals experiencing ADHD, anxiety, behavioral issues, depression, life transitions, marital and relationship issues, suicidal ideation, and trauma.
Healing is a process when working with couples, families, and individuals that happens in the context of relationships, and despite the issues that life presents, there is always hope. Eugenia considers it a privilege to work alongside her clients who are struggling with many issues. Eugenia believes that one of her most effective tools is her ability to connect with her clients in a compassionate and understanding way that empowers them to live free of destructive emotional and behavioral patterns.
Empathy, compassion, and a safe place to express your emotional and mental pain can be expected during your sessions. Eugenia will explore and discuss strategies on how to cope and utilize the appropriate interventions for anxiety and depression, and other mental health issues. Her approach to healing allows connection and processing so you may be free.
Eugenia currently works under the supervision of Jeanne Brown, LPC.

---
Katie Christian, M.Ed., Resident in Counseling
is a Resident in Counseling approved by the Virginia Board of Counseling working towards becoming a Licensed Professional Counselor. She studied psychology at the College of William & Mary and later graduated with her Master's degree in Counseling and Human Development, with a concentration in clinical mental health, from George Mason University. She spent the duration of her internship working at an inpatient facility, where she provided mental health services to individuals diagnosed with substance abuse disorder, as well as various co-occurring disorders, including PTSD, depression, anxiety, ADD/ADHD, and eating disorders. She has conducted education, group, individual, and living skills sessions that were designed to help clients develop and utilize holistic insight with knowledge of themselves, their behaviors and patterns, their environment, and healing. She also has taught a college class on human relations, which covered professional and personal perspectives and manners of relating, communicating, and problem-solving.
Katie is certified in Horse-Inspired Growth and Healing (HIGH) and Horse-Inspired Psychotherapy (HIP) through Big Heart Ranch in Malibu. She believes that one of the keys to healing is for humans to build connections with themselves, with others, and with nature. One of her principles to live by and by which she approaches her clients is that humans are all simultaneously both masterpieces and works-in-progress. She strives to offer a healing space that provides a balance of acceptance and encouragement to give her clients the safety that they need to fully explore themselves, their ways of being, and the possibilities for change and growth. It is imperative to her that she supports her clients as human beings rather than simply treat the diagnosis on the screen.
She employs an assortment of therapeutic concepts, models, and techniques to assist her clients in their introspective work and in cultivating methods for growth, including assessing mental perspectives and patterns, documenting impactful and emotional experiences, and identifying unhelpful or counterproductive behaviors and habits, and then analyzing the connections between those elements to successfully build new, healthful and heartful patterns of thinking and being. The necessary guidance and path to healing comes from the client themselves as they work with Katie to learn new insight into their pasts and legacies, challenge and unravel the false ideas that they learned, practice different ways of coping and relating, and, ultimately, take steps towards the satisfaction and joy that they desire and deserve.

Katie currently works under the supervision of Sarah Freeman, LPC.
---
Denise Whetstone, M.A., Resident in Counseling
is a Resident in Counseling, approved by the VA Board of Counseling working towards licensure. Denise earned her Master's in Counseling from Wake Forest University. She has previously worked at a community counseling center on a military base servicing active-duty military, veterans and their dependents, in addition to working in outpatient private practice. Her experience includes working with adults, adolescents and couples to provide individual, couples and group therapy services. Denise has worked with clients addressing a range of concerns to include depression, anxiety, self-image, transition and adjustment issues, relationship conflict, stress management, grief and loss, trauma, anger management, separation/divorce. She has a special passion for working with individuals identifying as BIPOC and other marginalized communities.
Denise's approach in working with clients is rooted in awareness and resources. She provides a safe and non-judgmental space for clients to engage in internal exploration with the aim of increased awareness of mind, body, spirit and environment. Insight into current states of functioning allows clients to identify needs and work throughout the therapeutic process to develop skills and resources to achieve desired goals and improved functioning. Denise believes that the client is always the self-expert and her role is to cultivate a supportive and collaborative space to bring about the client's greatest potential. She utilizes interventions from Cognitive Behavioral Therapy (CBT), Solution-Focused Therapy, Strength-Based Therapy and Mindfulness.
Denise currently works under the supervision of Jewelle Daquin, LPC.
---
Shree Patel, M.Ed., Resident in Counseling
is a Resident in Counseling, approved by of the VA Board of Counseling working towards becoming a Licensed Professional Counselor. She graduated with her Masters' degree in Clinical Mental Health and Addiction Counseling from The College of William & Mary. Shree has helped teens, college students, and adults experiencing anxiety, substance abuse, stress, low self-esteem, adjustment issues, academic/college struggles, relationship issues, identity development, and racial identity concerns. She also has a passion for working with 1st and 2nd generation immigrants, BIPOC and South Asian population. Shree has facilitated groups on topics surrounding substance use, building teen self-esteem, and how parents can discuss ethnicity and race to children.
Shree finds it crucial to foster a healthy relationship, provide a non-judgmental stance, build trust, and embrace the individuality that the client brings into the room. She understands how intimidating it can be to take the first step to working towards a healthier you. She approaches counseling through a holistic lens that recognizes all aspects of a client, rather than just the "problem." She tailors her sessions to best fit you and your goals through a mix of Motivational Interviewing, Cognitive Behavioral Therapy, Dialectic Behavioral Therapy, Solution-Focused Therapy, Emotional Focused Therapy and Mindfulness."
Shree currently works under the supervision of Sarah Freeman, LPC.
---
Luis "June" Mayen Jr., Creative Director
Luis, otherwise known as June, is a multitalented self-taught visual artist who has a passion for photography, music, and cinema. His incredible attention to detail and keen eye equips him to tell the story from behind the lenses of the subjects he captures with passion and respect. His experience with this medium of arts includes capturing live images for prominent political, religious, and cultural figures and the creation of content to increase their brand recognition and influence. June excels in problem solving and adaptability allowing him to compose graphics and videos to attract and inform a variety of demographics.
June has been creating industry-level content for over 2 years as a creative director and enjoys individualized service customized for growing businesses and organizations. His work has been featured on national publications and social media platforms of some of the most influential individuals and organizations. June's warm and welcoming disposition allows him to connect with all walks of life at a personal level. His strong sense of responsibility motivates him to exceed task requirements.
June's primary role as Creative Director is developing original content and creative strategies for promoting STEP into Wellness brand and opening new lines of communication within our surrounding areas. He is responsible for the design layout and visual impact of marketing materials, products, print, photography, video, and publications. He is helping us redefine our marketing strategy through innovating our website, social media, marketing materials, and other platforms. Junes employs his analytical skills to help us understand consumer trends and continually improve social media performance that helps us connect with our community.